Historic Preservation
Initiatives
Over the years property owners have worked hard to maintain the neighborhood's historic character.
The Old North End Neighborhood's long history lends itself to the telling of many fascinating stories. We are grateful to past and present community members who devoted significant time to:
Researching and documenting the stories about our predecessors and their homes;
Sharing the struggles of a neighborhood organization as it has fought for decades to preserve the historic integrity of the Old North End in the face of potential urban decay;
Educating us on the best practices to maintain the historic integrity of our homes and beauty of our neighborhood.
Support ONEN's mission of preserving, protecting, and enhancing the neighborhood by purchasing one or more of the following books. 
Exploring the Old North End of Colorado Springs –
A Guide to its History and Architecture
by Jennifer Wendler Lovell and Robert D. Loevy
Walk Through History
The historic and picturesque Old North End neighborhood of Colorado Springs developed rapidly following the discovery of gold in nearby Cripple Creek and Victor in the 1890s. The building boom of this prosperous period resulted in a neighborhood with strong visual continuity and high-quality, distinctive architecture. Along its wide tree-lined streets and landscaped medians, a harmonious assortment of homes and mansions provide a fascinating study of turn of the century 20th century architectural styles.
This volume explores the history and architecture of the Old North End neighborhood and highlights some of its most prominent and influential residents. Containing over 200 archival and contemporary photographs, its six walking tours feature 136 neighborhood houses and their historic owners.
Jennifer Wendler Lovell is an architectural historian and historic preservation consultant. Robert D. Loevy is a noted author and professor at Colorado College. Both are Old North End residents.
Purchase your copy today by using the PayPal link below. Addresses within the Old North End can have their book hand delivered. Books can be shipped outside the neighborhood via USPS Priority mail.
For $16.63 + tax – Addresses within the Old North End Neighborhood will have their book hand delivered within 3 days.
For $23.28 + tax – Addresses outside the neighborhood will have their books shipped via USPS Priority mail.
Buy your copy today!
Delivery Option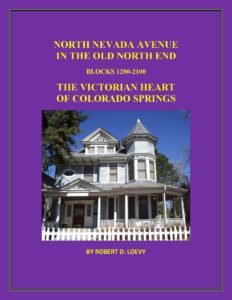 $20 including tax
North Nevada Avenue in the Old North End