City continues concrete repair cost-sharing option for homeowners
City Press Release,Friday, March 29, 2013
The City of Colorado Springs, with funding from the Pikes Peak Rural Transportation Authority (PPRTA) and the City General Fund, will continue the 50/50 cost-sharing program to repair/replace concrete sidewalks and curb and gutter adjacent to private property in 2013. Fifty percent of the cost is paid for by the City, while the property owner pays the other half. Concrete must be rated Priority 1 or 2 (explained further in release).
Concrete repairs to sidewalks and curb gutter adjacent to private property are ultimately the responsibility and liability of the adjacent property owner; however, the City has allocated funding to assist with these repairs. Currently there is an approximately 16-year backlog of citizen requests for concrete repair. The 50/50 cost-sharing program is designed to allow citizens to get Priority 1 and 2 areas addressed sooner and allow the City to address more needs with available funding.
In 2012, the City spent $107,500 in PPRTA funding and repaired concrete at 60 residences. For 2013, $115,000 in PPRTA funding plus $200,000 from the City General Fund has been allocated to the 50/50 Cost Share program.  The additional General Fund dollars are part of the Mayor's 2013 breakthrough strategy to increase road and stormwater maintenance.
Repair needs must meet Priority 1 or 2 levels using objective criteria established under the concrete repair program.
Priority 2 areas are those that meet at least one of these conditions:
75 to 100 percent of the curb head or sidewalk is chipped or broken
Concrete has settled at least 2 inches
50% or more of the surface has spalled (top ½ to 1 inch has worn away, leaving a rough surface)
Priority 1 areas meet at least one of the Priority 2 conditions AND at least one of these conditions:
Verified accident or claim for injury caused by damage
Citizen with a disability whose access is impeded due to damage
250 yard proximity to hospital, school, senior center or bus stop
NOTE: Even if your sidewalk is not yet a priority 1 or 2, you can still get on the list now and by the time they get around to you it will likely be a Priority 2.
Citizens interested in participating should call 385-5411 to schedule an inspection/rating session with a City/PPRTA inspector.
Here are some basic cost estimates for concrete work (as of 2013):
Remove damaged curb and gutter      $5.50 per linear foot
Install curb and gutter                            $14.25 per linear foot
Remove damaged sidewalk                   $2.25 per square foot
Install sidewalk                                        $2.90 per square foot
This is the full cost of repairs. The homeowner only pays 50% and there is no permit fee
Concrete is poured in May-October and the city can typically afford 100 jobs per year. Call now to get on the list for this year.
________________________________________
For decades, sidewalk repairs have been the responsibility of adjacent property owners. The City began to receiving PPRTA funding in 2005 to assist citizens with these repairs, but many of the City's sidewalks have been poorly maintained over the years and the backlog of needed work is extensive. 
City Website on Concrete Repair
FAQs:
Is it the City's responsibility to fix sidewalks, curbs, and gutters?
No, concrete areas are the responsibility of the homeowner for maintenance and safety concerns.
In order to assist Citizen efforts, the City is using a portion of the funds generated by the PPRTA 1 percent sales tax, which was passed in 2005, to work in various areas to assist in making some needed concrete repairs.
Am I allowed to repair the concrete in front of my house or do I need to wait for the City to do it?
Citizens are allowed and encouraged to make repairs to their sidewalk, driveways, and curbs to mitigate the homeowner's liability exposure. A permit must be obtained through City Engineering at 385-5977.
The use of a  licensed and approved concrete contractor is required.
So what are your chances of benefiting from the PPRTA program?
The majority of this program's limited resources are used in addressing the high priority repair requests located in one grid per year. ONEN is in Grid Area 8. We were the focus in 2009. Our zone will probably not be worked again until all other 16 zones are completed.
Here is a map of the grid system the city is using:
It is still a good idea to get your name on the list. First check if your property is on the On-Call Request List
To see all requests within the boundaries of ONEN (as of Nov 2011) visit this google map
If you are not on the list call 385-5411 or fill out an online request. Select "Concrete Repair/Replacement" and "Grid Area 8"
Also, the city is only focusing on Priority 1 and 2 Concrete Damage 
Priority 1 Criteria is the same as Priority 2 plus
Verified accident or injury caused by concrete damage
Disabled citizen home access impeded due to concrete damage
250 yard proximity to a hospital, school, senior center, or bus stop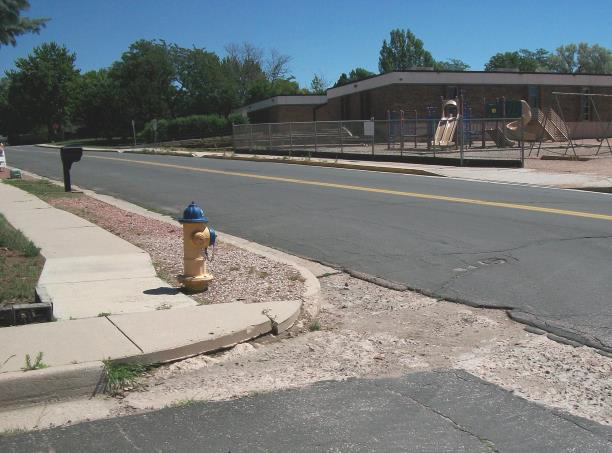 Priority 2 Criteria (Severe Damage)
75% – 100% of curb head or sidewalk is broken
2 – 3 Inches of Vertical Settlement has occurred
Spalling (Chipping) has occurred over 50% or more of surface area



Sidewalk Replacement Making your Own Repairs:
Groninger Concrete is one of our sponsors and has worked with ONEN over the last 2 years on the Sidewalk Improvement Program. Click here for more info on this program.
They have extensive experience working with the city to obtain necessary permits.
Trip Hazard Mitigation is a lower cost alternative to complete replacement:
Precision Concrete Cutting (PCC)

Marc Emrich

Denver, CO

Phone: (303) 330-3398

Toll: (877) 224-0025

They use a patented "precision cutting technique" that is different than grinding. This is the process that was used a few years ago by the city on some of our neighborhood sidewalks. They still do a significant amount of work for city but not in our neighborhood.   They are based in Denver and have a $350 minimum for each time they come to the neighborhood so neighbors should schedule work together to meet the minimum.  ONEN is exploring the possibility of having PCC focus on different zones in the neighborhood to help coordinate this work. More info to follow.
Sidewalk Shavers

Scott Laudenslager

8547 E. Arapahoe Road, J120

Greenwood Village, CO 80112

Phone: (303) 324-7165

They use grinders to remove the trip hazards up to two inches in height from sound concrete. They have worked in the neighborhood and have satisfied customers. Their pricing is by the inch-foot.  For example, a one inch high trip hazard across a 4 foot wide sidewalk would cost $100 to shave.  Trip hazards are rarely uniform across a sidewalk so they measure the height of both sides and put the info into a spreadsheet that calculates the cost.  They have a $250 minimum for each time they come to the neighborhood so neighbors should schedule work together to meet the minimum