Sunday, May 22, 2016
Every day, it seems, we learn of another arterial street in Colorado Springs that has been given the safety-sizing treatment. Today we heard about Cheyenne Boulevard down in the Ivywild section of our city. Similar to many other arterial streets all over Colorado Springs, it has been downsized to One Lane From Two Lanes.
And one resident of the area is really enthusiastic about the improvement: "When they started changing from four lanes to two, I thought it would be a disaster. But I love it. I think it would be excellent on Cascade Avenue as well. And what is the worst that could happen? If it is a disaster, we can repaint the lines again."
Cheyenne Boulevard was changed to One Lane From Two Lanes in the early 2000s. The change went from South Tejon Street to Cresta Road. There was significant controversy and opposition when that was proposed, and even after installation there were calls to undo it. City staff stayed the course, and now it is widely supported and would face a huge backlash if ever undone.
Cheyenne Blvd is one lane in each direction with a center turn lane and parking and bike lanes on both sides.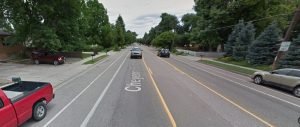 This is what North Weber Street in the Old North End will look like once the evaluation period ends and the safety-sizing is made permanent